Baseball News (Cont.)
Pages: 1 2 3 4 5 6 7 8 9 10 11 12 13
David Phelps Named Yankees Top Rookie in Camp
Phelps named top rookie in Yanks camp
By Bryan Hoch / MLB.com |
04/04/12 2:12 PM ET
TAMPA, Fla. -- Right-hander David Phelps was honored on Wednesday with the 2012 James P. Dawson Award, issued annually to the top rookie in Yankees Spring Training camp.
Phelps, 25, was 0-1 with a save and a 2.08 ERA in seven appearances (one start) this spring. In 2011, he went 7-7 with a 2.99 ERA in 20 starts with Triple-A Scranton/Wilkes-Barre and the Rookie League Gulf Coast League Yankees, leading all Yankees farmhands in ERA.
Voted on by the Yankees' beat reporters, the award was established in honor of James P. Dawson (1896-1953), who began a 45-year career with The New York Times as a copy boy in 1908. Eight years later, he became boxing editor and covered boxing and baseball until his death during Spring
---
Rawlings Tigers Seth Mesey Throws No Hitter
Rawlings Tiger Seth Mesey Throws No Hitter for Sullivan click on article below

http://www.sullivanjournal.com/sports/article_cc6d8074-7ad2-11e1-8f3c-001a4bcf6878.html#.T3tC5FMi6-Y.email


---
10U Rawlings Indians (Busby) Wins GMB St. Patty's Day Bash
---
9U Rawlings St. Louis Jr. Prospects (Whiteside) win 1st place in 10U division at Game 7 Sports Spring Smackdown Tournament in Chesterfield!
---
9U Rawlings Elite Win Big at First Pitch Classic in Ellisville
The 9U Rawlings Elite started off the season winning big at the First Pitch Classic Tournament in Ellisville. The Elite went 4-0, outscoring their opponents 47-18. Their hot bats put 2 out of the park on their way to a 13-5 win over the Longhorns in the championship game.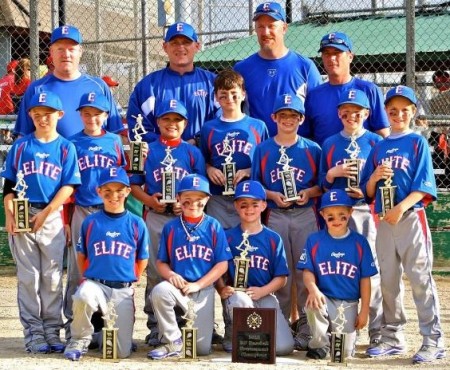 ---
Good Luck Former Rawlings National Baseball Club Members in Big League Camp
Sam Lecure-Cincinnati Reds
Max Scherzer-Detroit Tigers
Jacob Turner-Dertoit Tigers
Blake Tekotte-San Diego Padres
Blake Dewitt-Chicago Cubs
Ross Detwiler-Washington Nationals
John Hellweg-Anaheim Angels
David Phelps-New York Yankees
Lucas May-New York Mets
Lucas Harrell-Houston Astros
Scott Elbert-Los Angeles Dodgers
Jason Hagerty-San Diego Padres
Blake Parker-Chicago Cubs
---
Another Gold Ring for 11U Rawlings Arizona Lightning as they go 4-0 to win USSSA Spring Training 1 Tournament!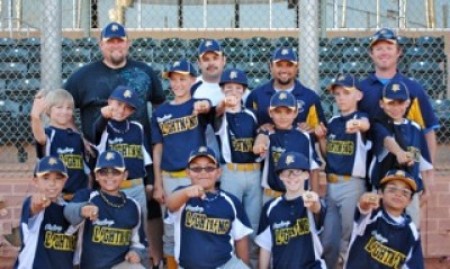 ---
Arizona Rawlings Lightning Win President's Day NIT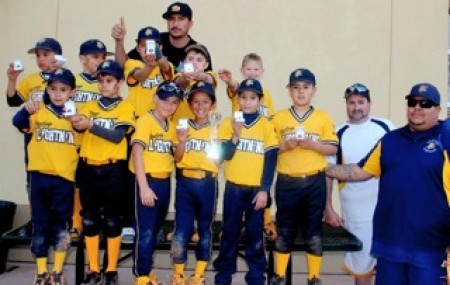 ---
14U & 12U Arkansas Rawlings Prospects are 2012 "Road to the Show" Champions!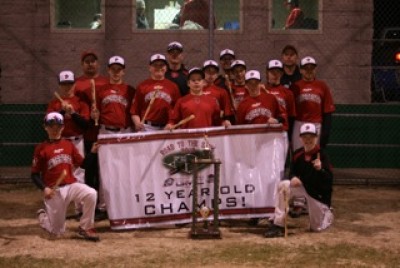 ---
Rawlings/Worth Sports Club Night at Busch Stadium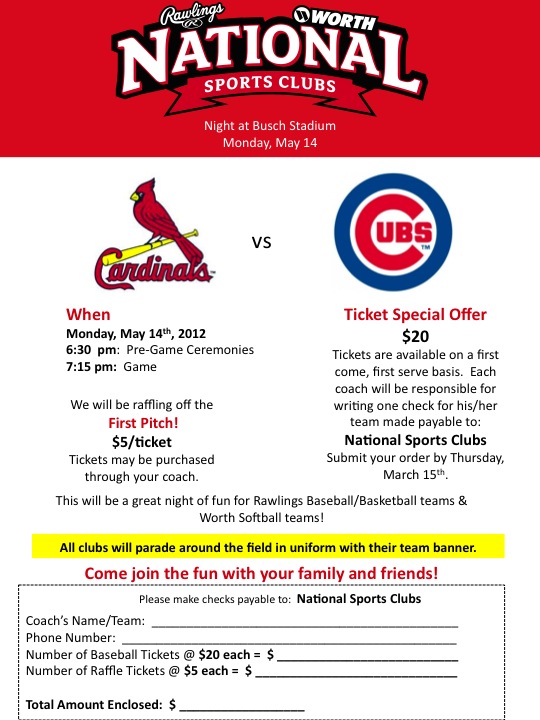 ---